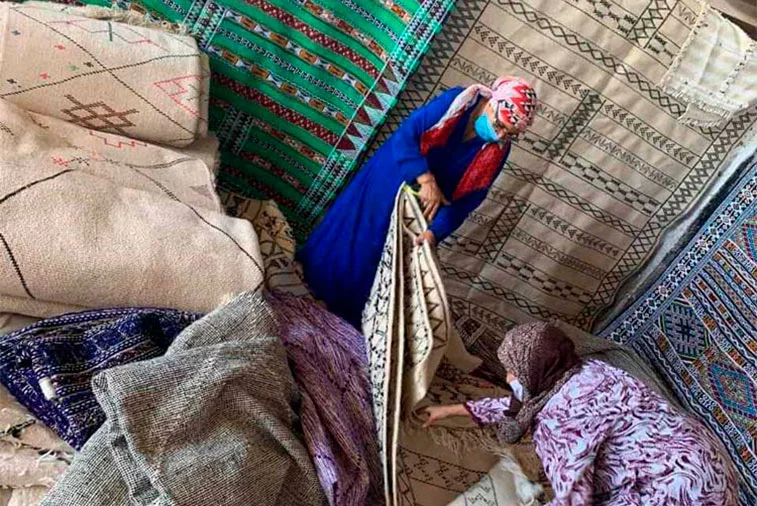 Our Weavers
Most of our Moroccan berber rugs are made by women in rural areas of the country. These skilled women use ancestral wooden looms, rather than the more modern electric ones that tend to be bulkier and less cost effective. Our weavers are passionate about what they do, and that passion is imbued into each unique creation. It's clear from the intricate patterns and the care that is put into each knot.

A weaver can spend up to six months making just one rug. The loom is the heart of their home. It is usually set up in the living room, the hustle and bustle of family life playing out around it. The weaver, almost always a mother, manages the household while creating high quality products to support her family. Other weavers work through a network of cooperatives, working alongside fellow artisans. These coops have a fantastic collaborative atmosphere and were set up by the Moroccan government and some NGOs to support the economic empowerment of women and preserve traditional artisan skills. Their livelihood steeped in the tradition of their regions, Moroccan weavers create some of the most unique, luxury rugs on the market. This goes beyond the weaving to the materials used, the pre-treatment of those materials and the natural dyeing processes. When you bring an Assliah rug home, you bring home a work of art made with love that helped put food on the table of a family in need. You bring home a piece of Moroccan tradition, a tradition that your purchase is helping keep alive. Continue reading below to learn more about each town our buyer and founder Rahaf has shopped at so far, or check out our first collection right now.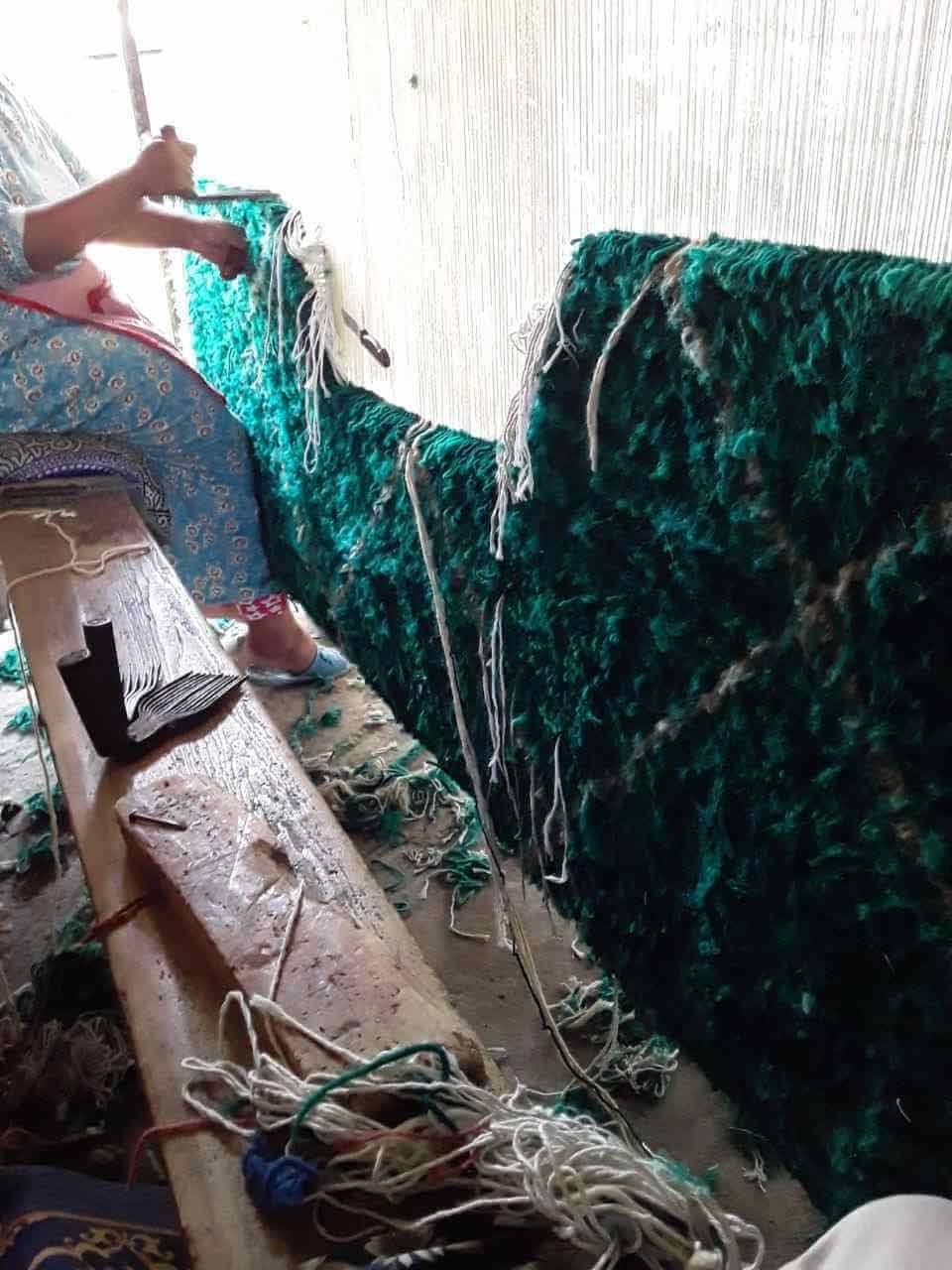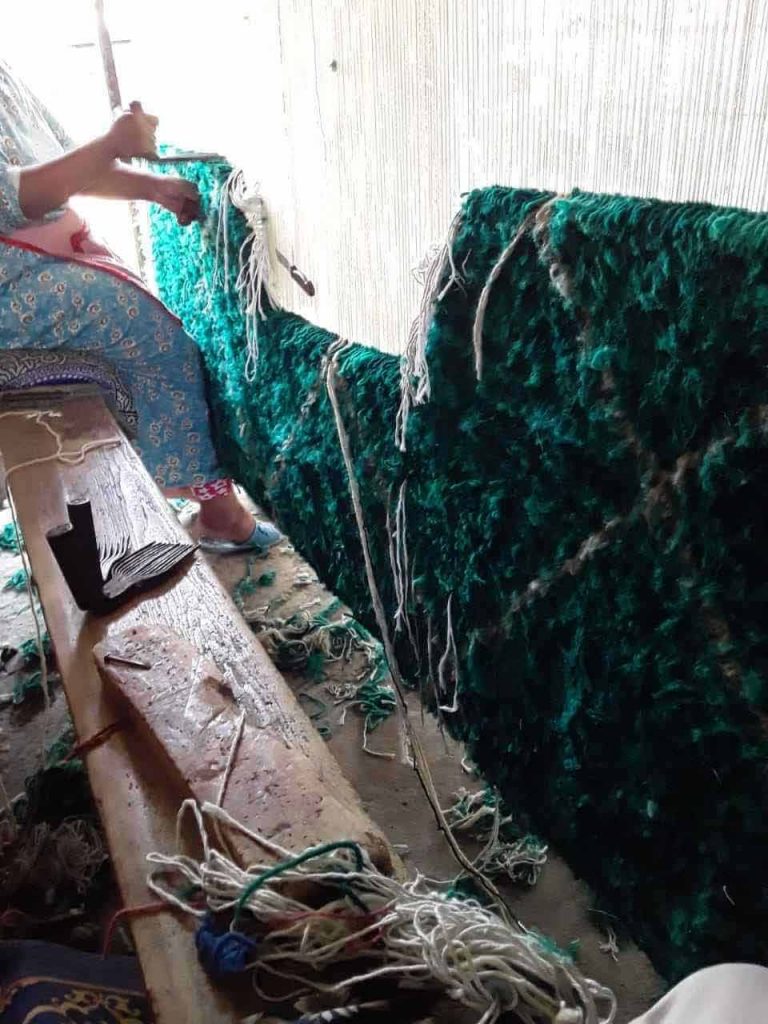 "Khemisset is a rural town located between Rabat and Fes. Its Tuesday market, crammed with people and horse carriages, has a large brick building where female weavers sell their rugs first thing in the morning. These women who are used to sustaining their whole family out of the rug sales, are really struggling now. With the large vendors not selling or buying and the lockdowns between cities, whenever I manage to go there I get treated like royalty. It gives me such joy to see their happiness when I buy some of their creations. The best weavers there now communicate with me regularly and send me pictures of the rugs they are producing. You can find here some of the plush medium pile hand-knotted rugs, like the Beni Ourain Morocco style ones, but also a bigger variety of kilims, especially the reversible zanafi kilims which are gaining popularity amongst expats in Morocco.
Khenifra is a quiet little town at the base of the Middle Atlas Mountains. It has several large women's coops where the weavers produce very high quality plush hand-knotted rugs and colourful Moroccan rugs inspired by their striking surroundings. These women do the whole process from scratch: soaping, dying, and threading the wool, to weaving it on large traditional looms. Their rugs are super cozy and addictive to sink into. They're tightly knotted and almost have none of the typical shedding that happens with new wool rugs.
In Boujad you can find bright and colourful Moroccan rugs with bold designs, almost like abstract art. Each of the women tell a unique story through their creations and you can almost never find two of the same rug.
South of Morocco just off the edge of the desert is Ouarzazate. There you find rugs made of camel hair, which makes them some of the warmest and most durable rugs. They often have a flat woven background with colourful raised designs.

In Rabat, the city where I currently live, the Medina (old town) is quite charming. It is right at the edge of the Atlantic Ocean along the mouth of the historic Bouregreg river, and opposite the Kasbah of Udayas (citadel). The souk here is more intimate and less touristy than in the busy cities like Marrakech, Casablanca and Tangier, but it is full of hidden treasures. I have established relationships with a couple of vendors that the weaver ladies from the neighbouring towns confirmed are fair-traders. My buddy, Mohammed, has been helping me collect my custom ordered rugs from the further away women's coops and I have been helping him better curate his already amazing rug and textile collection.
In berber tribes, the women traditionally make the rugs to commemorate life events and illustrate stories about marriage, fertility, spirituality, nature and so on. The rugs serve as a message to be translated by her family and neighbours. One thing you may notice is that most of the rugs have tassels on just one side. This is done to demonstrate that the weaver's story is not finished yet. It is actually bad luck to finish the rug at both ends."